Health insurance packages – child and adult
In each of our lives, there may come a time or situation where the problems suddenly flood in. In such a life situation, it is best if we can rely on our savings or prepare in advance with an insurance policy.
If we want to receive high-quality care with a free choice of who we will be treated by, as soon as possible in the event of an illness, we can do so mostly within the framework of private health care, which is becoming more and more expensive.
Private healthcare is a relatively young and increasingly dynamic field in Hungary. Private clinics and hospitals provide a much nicer environment for recovery and are typically equipped with many more modern machines, using the latest technologies, than their public counterparts.
It is in the interest of any private healthcare worker that the client returns, therefore we can expect better service, more care and kindness. Many agree that when someone suffers from a disease, it is important that the environment around us is supportive. In a supportive environment, our immune system is also more successful in fighting the disease.
Anyone who has experience with public health care knows that it is often a problem to decide whom to turn to with your complaint. Due to long waiting times, it also takes longer to diagnose the disease let alone start treatment. Not to mention the gratitude money, which may be a larger amount than if one would have paid for an insurance policy. We only pay the insurance bit by bit while the gratitude money is paid in one large sum immediately. Which is easier for you, to reach your goal little by little or to come up with a lump sum?
In case of a health problem, it is important for you that: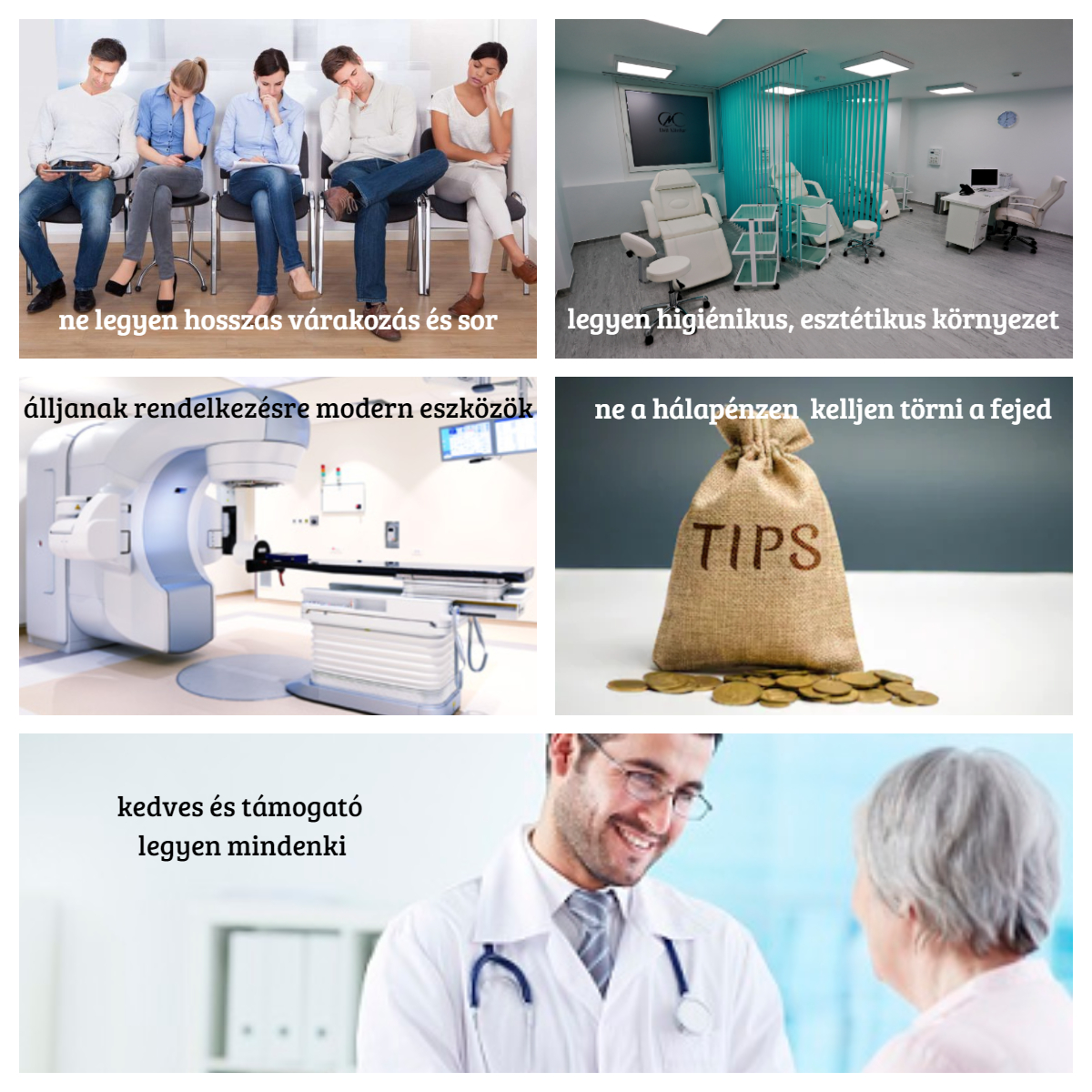 Don't trust your health to chance or luck. There is a wise saying that reads: "Expect the best, prepare for the worst" Insurance packages also work well if we live by this philosophy. You can sit back, relax, knowing that you are prepared for unexpected events, though if an event as such does happen, you do not have to worry about spending your entire fortune on medical acre either, because you are still paying the low monthly fee and enjoy the safe, fast, professional and convenient private healthcare. In case of trouble, you do not have to think about where you are going to get the materials needed for tests because you only got a date set for two months in advance in the public hospital. This way, you can safely devote your subconscious and superconscious to healing without distractions.
The doctors within our packages are well-trained professionals, who use modern technology and methods to ensure you avoid or recover from any illnesses!
They even include screening tests for the prevention and early detection of any diseases, which can be used every 2 years!
You also deserve the best care!
The goal of the Fund is to make private health care available, not only for the top ten thousand but for all citizens as well. IZYS joined members will be entitled to a very serious service with very low monthly fees. These packages can be used by fund members and also by their beneficiaries.
What do the packages contain with what budgets?
The insurance service is provided by Aegon Magyarország Biztosító Zrt. To acquire the service, all you have to do is call the Aegon doctor's line: +36 1 461 1580, where staff receives calls between 8:00 and 20:00 Monday through Friday. Except for telephone medical advice which is avaiable 24 hours a day, 7 days a week.


In each fund insurance package, the medical history is excluded, so the insurer does not finance the benefits for an existing illness. It is worth joining the package for those who want healthy and protected lives.
How much do they cost?
The above amounts represent the fee deducted from the individual or targeted health fund account. In order to have such an amount available in the fund member's account, we can get the above amount divided by 0.941 to be able to work out the amount needed to be uploaded into the member's account. For example, in the case of a children's package HUF 6,700 / 0.941 = HUF 7,121. The amount of the deposit may differ from this due to the card fee. You can find the Fund's conditions here.
Age restrictions:
The childrens' package can be acquired when they are anywhere between 6 months and 17 years old.
The adults' package can be acquired between the ages of 18 and 65.
As a company, you can connect all employees between the ages of 18 and 65, regardless of the number of employees though of course people can join individually if they meet the age restrictions.
As a company, targeted health insurance support can be granted with a favourable tax of 35.99% while as an individual, state support and a 20% tax credit can be used after your fund payments.
the fee must be avialable on the 25th of every month on the individual's fund account or targeted support of the employer.
How can you apply?
log in to your online fund account and join easily online by clicking on the insurance menu item,
contact your personal financial advisor and ask them for help
in person!
If you have any questions feel free to contact customer service and ask the person authorized with insurance information!
The information on Aegon Biztosító Zrt. relating to the coronavirus situation can be found here.